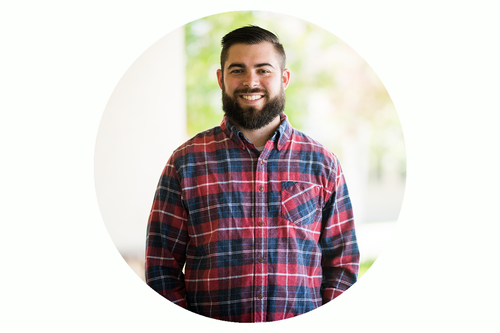 Hi, my name is Kyle Hogg and It is my privilege to serve along-side you in ministry. I have been together with my wife for 6 years and have a 17 month old daughter who keeps me very busy. I worked on Staff at Valley Baptist Church of Bakersfield, California for 6 years and am indebted to them for their investment in my spiritual walk. I have a degree in Business Administration and am just a few classes away from completing my graduate degree. Very soon I will be blessed with a Masters of Divinity. I have a love and passion to teach God's Word and I am committed to verse by verse exposition as we study the Scriptures every Sunday morning. I look forward to helping you in anyway I can. May the Lord bless you and keep you. May His face shine upon you.


Hello, my name is Daniel Palmer. I have worked in ministry since I was 17 and at Crossover since 2014. I love preaching the Gospel and seeing people come to saving faith in our Lord and Savior, Jesus Christ. I have been married for 10 years to my wife Richelle, and I have two children by the name of Lydia and Silas. My prayer is that the Lord will use Crossover to reach the lost and broken in our community and throughout the world. May God be glorified in everything we do here at Crossover. May the Lord Bless You!
Hello, my name is Natalie Campbell and I'm the Director of Music at Crossover Church. As the worship director I hope to inspire and cultivate an attitude and passion for worship in the music we sing but also throughout our daily lives. I look forward to worshipping together as a church family and praising Him in Spirit and in Truth!


Hello, my name is Steven Barker, and I am the Small Group Director at Crossover Church. I have an English degree from CSUB, and I have been an English teacher at Cesar E. Chavez High School for four years.
Hello, my name is Heidi Palmer. I am the children's ministry director here at Crossover Church. I have been married to my husband Elijah, for 10 years this fall. We have 3 children, Hannah(8), Noah(6), and Seth(4). My goal as director is to see that every child hears and learns from the Bible, while providing an opportunity for each child to develop a personal relationship with Jesus in a safe and fun environment! I look forward to getting to know each and every family and child that steps onto our campus!



Hi, I'm Donne and I'm the Director of Youth here at Crossover Church. I've been working with youth for 5 years now, and I'm currently in School to get my degree in Business. I have a passion for working with youth and I love being able to share Christ to students, seeing them get to know Jesus on a more real and personal level, is one of my many joys. My goal for The Forge is to both help provide an opportunity to learn what it means to be a disciple of Jesus in all areas of life, and a fun environment for our students to grow and build relationships in. I look forward to meeting you, both parents and students alike, and I am excited to see the work God will be doing in our lives through the Forge.